THE NEW FRONTIER OF TOURISM
What does virtual tourism mean?
Imagine being able to explore some of the natural and cultural wonders that the world has to offer, such as the picturesque Lake Como, the fascinating Cinque Terre, the charming Tuscan villages, and the historic city of Rome. And then, imagine being able to enter a Palladian villa, such as the magnificent Villa Barbaro, starting from the porch, climbing to the Piano Nobile, admiring the Sala di Bacco, passing the Tribunale d'Amore, and then discovering the Sala dell'Olimpo and the Sala del Cane. Can this experience replace the beauty and emotion of a trip to Maser to admire a unique architectural masterpiece like Villa Barbaro, recognized as a UNESCO World Heritage site since 1996? No, let's not joke about it!
The correct question we should ask ourselves is: can a virtual trip like the one just described bring virtual experience users closer to the works of Andrea Palladio? Can it generate the desire to travel and experience seeing the work of the Venetian architect in person? Yes, it can (but it's still not enough).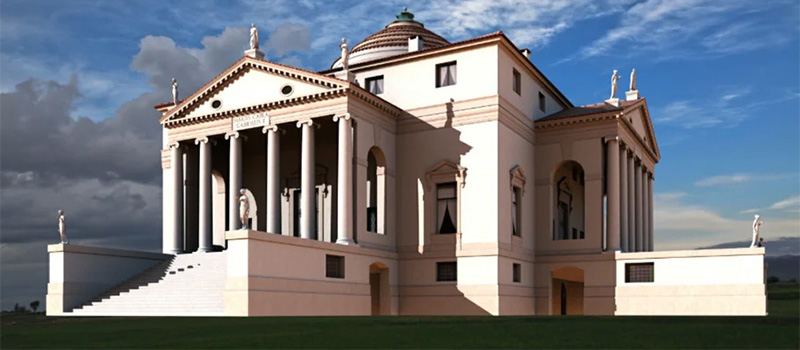 Enoverse is a platform created by Vanilla Innovations to provide wine & food companies with optimized virtual spaces for promoting territories and selling food and wine products, as well as tourism services to a new and international audience.
At the same time, it is a new way to interact with business customers worldwide and a new type of service that can enhance the offerings of companies, associations, and consortia, ensuring the possibility of spreading their message worldwide.
To understand what Enoverse represents, all you have to do is enter one of our spaces, like "Orion Winery," and while the "Sextet of the Cloud Atlas" provides background music, all you need to do is look beyond the glass wall to understand that we are not in just any metaverse: clouds float in the sky, birds chirp happily, and the sun creates shadows that seem alive. To confirm our initial feelings, all we need to do is step out onto the terrace and be surprised by a downpour; the birds run for cover, the clouds obscure the view of the sky as much as the skybox. Everything turns blue and then gray, and then, as if it never happened, the sun returns to light us up from within.
What turns all of this into virtual tourism?
The answer is the human presence of expert storytellers, sommeliers, architects, landscapers, and more: people who welcome guests upon arrival and guide them on a discovery of the territory, tasting a wine (delivered on time via delivery or courier) or a beer. People who know how to turn words into fairy tales and images into a full-fledged experience destined to remain in memory for a long time. This is what we define as virtual tourism.
A journey that never ends.
"Some journeys begin in pursuit of a dream, others in the urgency to contradict it," wrote American writer Anaïs Nin, and while I know I am committing sacrilege, I would like to add something to that sentence: "We travel because we don't know how to do anything else, and our journey always takes us forward." It is this unbridled desire to go beyond that has driven us, among the first, to believe in virtual tourism as a tool for promotion, discovery, and inner journey. Today, people from all over the world discover Lake Como, the Oltrepò Pavese (where one of our virtual wineries is located), and together with the territory, they discover the flavors and scents that distinguish it.
It's pure emotion.
Fabio Sarti
CEO @Vanilla Innovations