The first Italian virtual business center.
EMC-Center. In the middle of Metaverse
Floating on Lake Como, EMC Center is a crossroads between past and future: an elegant and refined environment, as expected from a modern and multifunctional business center, that finds its identity and natural location in the metaverse. A place almost magical to meet colleagues, clients, suppliers, and friends and spend quality time together.
Featuring a large glass window offering a view of the outdoor terrace and surrounding landscape, the Stephenson Arena (named after the science fiction author who created the concept of the metaverse) with its 250 seats and all necessary amenities to accommodate an international audience, is the ideal location for conferences and congresses of all kinds. A combination of wood, concrete, and glass, typical of the brutalist architecture style that marks the signature of the Decent-Architecture studio, which designed the work, defining the environment in a decisive and rational way.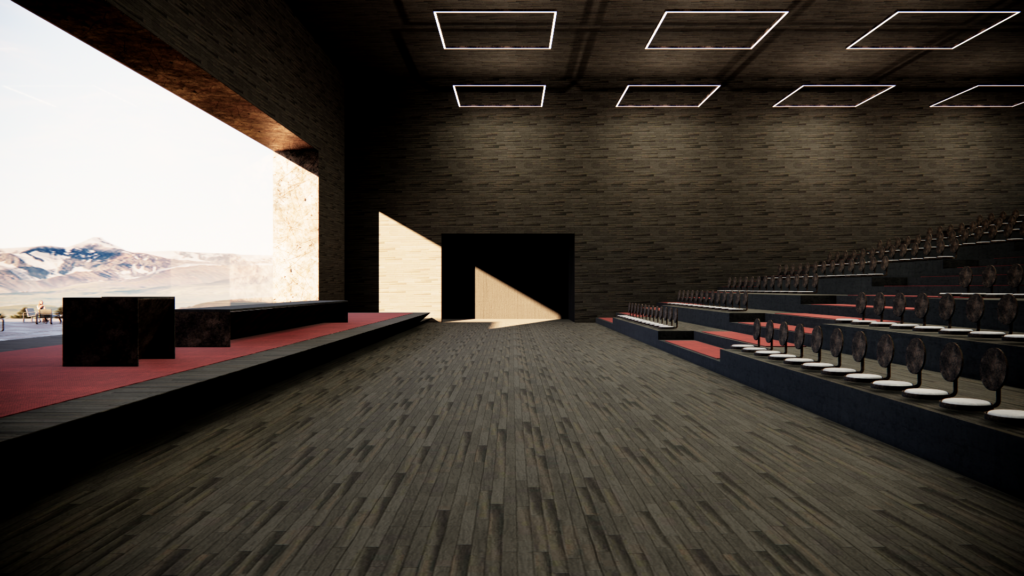 Facing the arena, "The Terrace" is an elegant terrace featuring lounge music and a stunning view where you can relax after a day of work, participate in a wine tasting, or be the protagonist of any other type of festive event.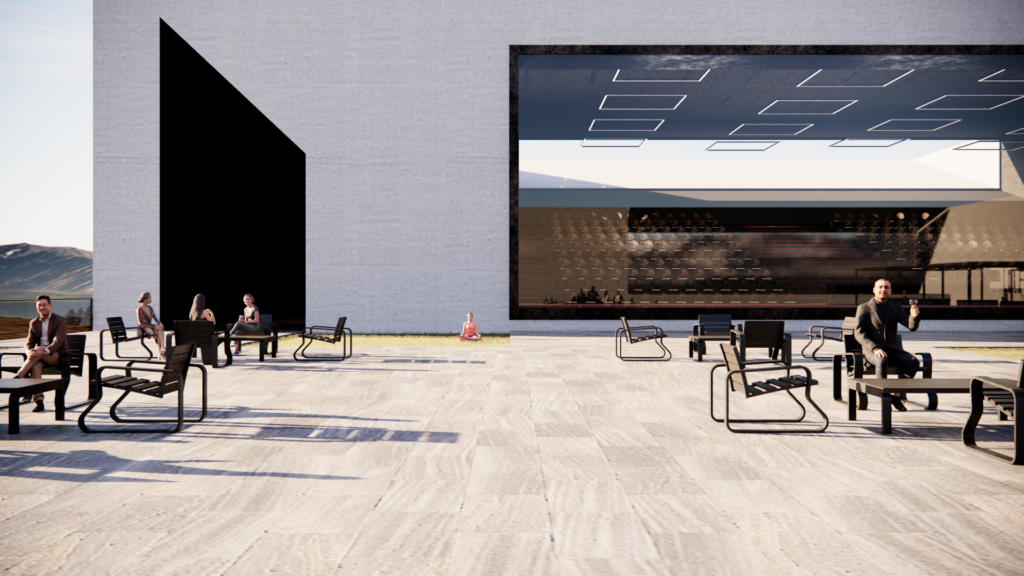 On the lower floor, almost perfectly beneath the arena, there is a meeting room that seats twenty people, designed for training events, board meetings, and meetings that require more privacy.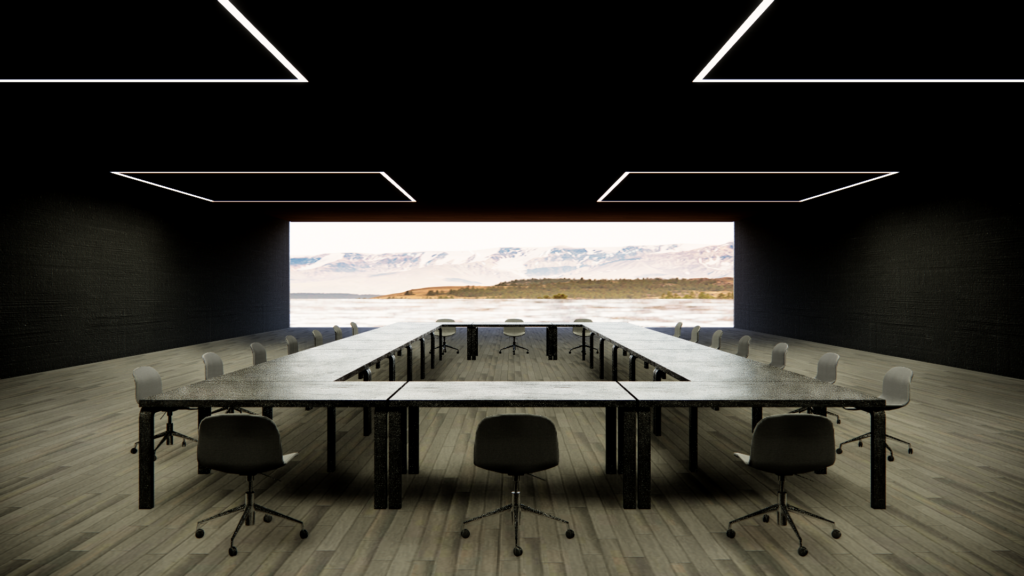 On the lower floor, on both sides of the structure, there are two mirror galleries, "Galleria Futura" and "Galleria Avant-Garde", two spaces designed to promote the dissemination and enhancement of digital art through exhibitions and other artistic activities aimed at involving artists from all over the world. It's a new idea that becomes a moment of detachment from all that is business in order to rediscover beauty.
At the end of the room, past the "Galleria Futura," you will find "The Sweet Cat Club": a small wine bar with subdued music, a love of literature and science fiction films, and a pretty good wine list. The bar takes its name from a little orange kitten that occasionally visits the area. The Sweet Cat Club is an intimate, secluded spot – the perfect place to seal a deal over a glass of Barolo or Armagnac, delivered in advance via our delivery services.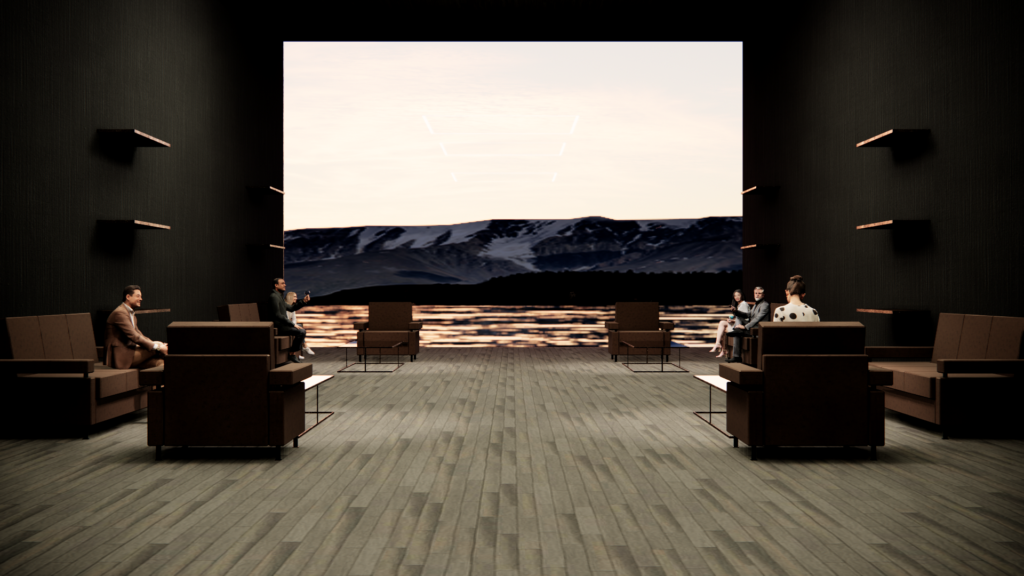 Set up
Not just branding, but a complete customization of the environment as only a virtual environment can allow.
Hostess and Steward
Real staff members who, through their avatars in the metaverse, provide assistance and information to guests and support to organizers.
Experiential activities
Cultural and recreational activities designed to engage, motivate, and train personnel from companies of any size.
Access Control
Thanks to blockchain technology and access tokens, we can provide personalized access keys to participants, excluding unauthorized persons, the press, and others.
Video
Audio and video recording, live streaming on major social media platforms, and post-production services.
Delivery
Book your participation in an event in advance and receive everything you need to fully experience it wherever you want.
Simultaneous translation
Thanks to artificial intelligence, we can translate in real-time the words of a guest into our language and vice versa.
Marketing
The integration with the E-Business Suite CRM provides the metaverse with a complete marketing tool: from generating email or Telegram campaigns to automating various marketing activities.
Full management
Vanilla Innovations' specialized staff can support or completely replace the organizer in order to make every event unforgettable.