saas, aws-based, reafy for the metaverse
THE POWER OF INFORMATION FOR BUSINESSES
E-Business Suite is Vanilla Innovations' CRM designed to optimize the management of a high-quality relationship with its customers, aggregate information about purchases, sales, and revenues, while also communicating through social media, email, or via WhatsApp or Telegram. It helps create a community around one's brand and much more. A unique tool to manage and monitor vital relationships for the smooth operation of one's company in real-time and from every angle. Based on the cloud, and therefore accessible from any internet-connected browser, E-Business Suite has been specifically designed to support companies in the agri-food, agritourism, and wine sectors, ensuring that every phase of customer interaction occurs smoothly and efficiently.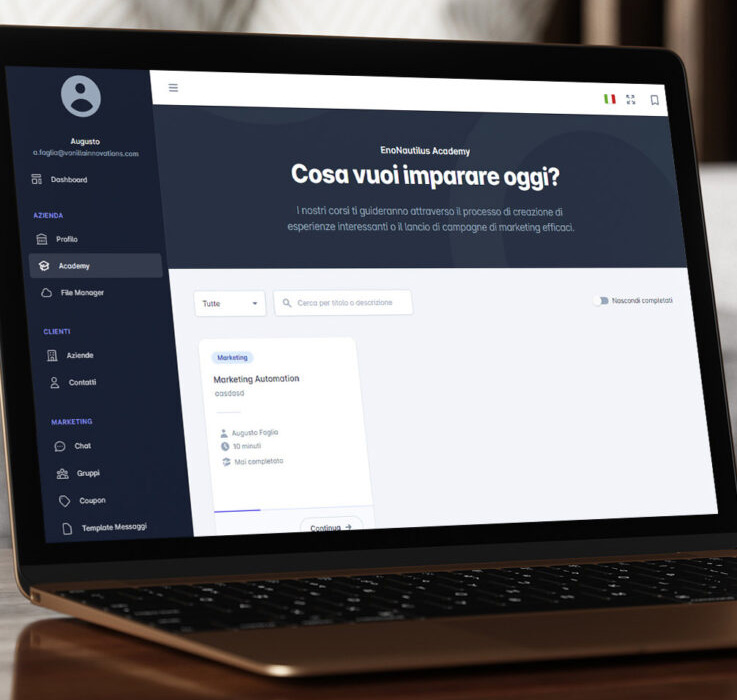 Multi User
E-Business Suite allows multiple users to operate simultaneously.
Bilingual
The entire CRM is available in both Italian and English to facilitate use by a wider user base.
Multi Dashboard
A comprehensive overview of sales, bookings, regional trends, team performance, and much more.
Product Management
Fully customizable to meet the needs of any type of business.
Company and Contact
Goodbye old address book and welcome to a new tool that records and organizes all interactions with companies and contacts according to logic.
Calendar
The calendar widget couldn't be missing, where you can schedule personal and team events. It's a comprehensive tool that simplifies life.
Direct Email Marketing
Like any good CRM, E-Business Suite contains a substantial section dedicated to marketing and communication, starting from the creation, management, and reporting of email campaigns.
Marketing Automation
A very important section that allows for the automation of simple marketing operations (via WhatsApp, SMS, Telegram, and email) that involve sending a message of greetings, thanks for a visit, or for the occurrence of a predefined event.
SMS Telegram e WhatsApp Marketing
Tools such as Telegram, WhatsApp, and SMS represent the forefront of direct communication; a new approach to communicate alerts, information about an event, invitations, promotions, and more. Just set up the message and click.
Quotes
We couldn't forget about the B2B market, so here's a tool borrowed from management software: a complete quotation system that goes from creating the quote to electronic invoicing.
Electronic Invoice
The final step of the sale: electronic invoicing. A tool that manages the creation and shipment of the courtesy copy of the invoice. Just a few clicks and lots of satisfaction and time saved.
Cash register
A tool capable of replacing or supporting a physical cash register by issuing electronic receipts directly.
Facebook Chat
Integrate the Facebook pages you want to manage with just one click and chat with your customers directly from the Suite. It's easy, it's fast, and it's perfect as it is.
Task
A simple to-do list wasn't enough for us, so we implemented a scrum board to provide a truly comprehensive tool for managing your own work and that of your team.
Widget
Widgets are configurable modules ready to be inserted into any website, allowing for tasks such as newsletter sign-ups, lead acquisition, and publishing of products and travel experiences on your own website.
Integration with Unity3d-based Metaverses
First to conceive integration between a true CRM and Unity-based metaverse (like Enoverse), we are now capable of managing the creation of wine products within the CRM that can be transformed into 2D or 3D objects and published in the metaverse for sale. Similarly, we can utilize the CRM for creating tourism events and experiences (dinners, theatrical shows, concerts, food and wine tastings) that follow the same path as products but once published in the metaverse become bookable experiences with ticket reservation, payment and refund policies.The opposite path is taken by usage data from the metaverse, which become graphs and tables capable of showing companies information on visits (by zone), length of stay, interest shown in products and services, purchases, reservations, abandoned carts, etc.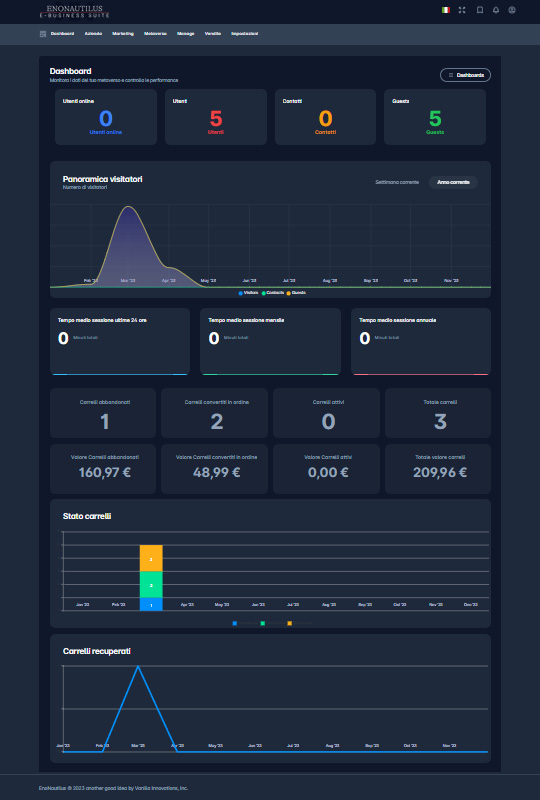 Integration with Artificial Intelligence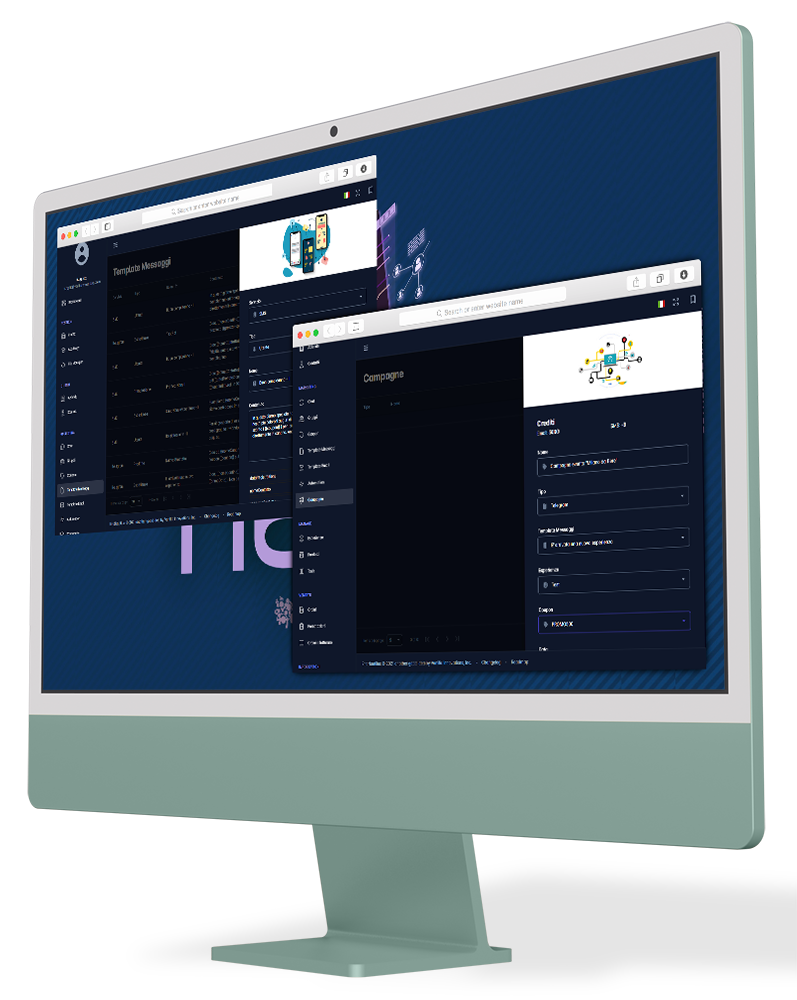 Currently, E-Business Suite includes some artificial intelligence features provided by OpenAI to assist users in writing short messages and emails by offering the ability to correct the message's syntax rather than completely rewriting it and then translating it into English (French and Spanish and other languages will soon be introduced).
New artificial intelligence features are expected to be available in early 2024, and they will focus on predictive analysis, which involves using data and statistical algorithms to identify the probability of future outcomes based on historical data, applied to marketing. The goal is to move beyond understanding what has happened to arrive at a better assessment of what will happen.
A DIFFERENT WAY TO EXPERIENCE A CRM
E-Business Suite has been designed with the goal of making the use of CRM software easy and comfortable for everyone. No more anonymous, complicated, and unattractive programs: the E-Business Suite interface has been developed to adapt perfectly to your needs and personal preferences, without forcing you to change your habits.
You can customize the interface by choosing from a wide range of styles, colors, and backgrounds, and create your personalized work environment. Whether you prefer a left, top, compact, or centered menu, a classic or modern style, purple, blue, pink, amber, or purple color, with light or dark background, you will find everything you need to have a completely customized CRM that suits your needs.
We believe that a personalized work environment can improve productivity and make software usage more enjoyable. With E-Business Suite, you can finally have a CRM that reflects your personality and helps you achieve your goals.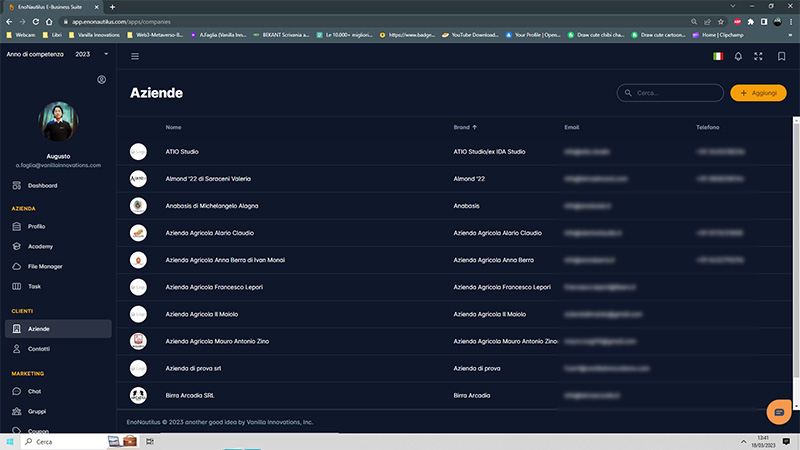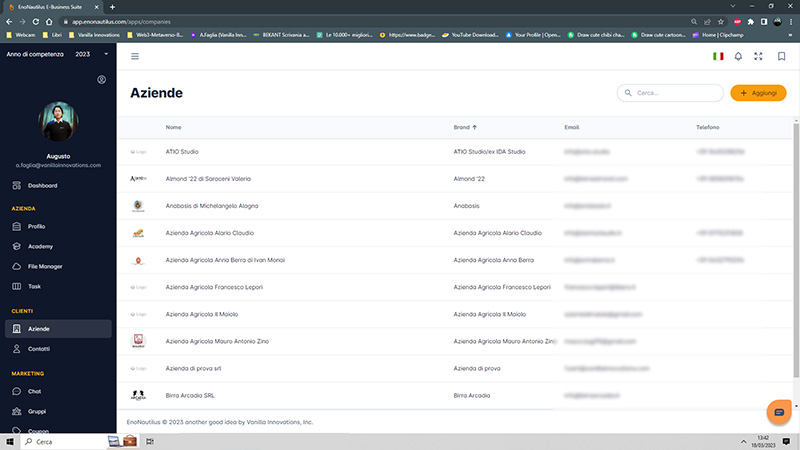 5.000 Monthly Email Credit

15.000 Monthly Email Credit

50.000 Monthly Email Credit