crm, saas, aws-based, reafy for the metaverse
THE POWER OF INFORMATION FOR BUSINESSES
We understand how stressful it can be to manage your business while maintaining a quality relationship with your customers. That's why we created E-Business Suite, the software that allows you to optimize your relationship with your customers, automate marketing and communication strategies, simplify sales procedures and electronic invoicing of products and tourism experiences. This way, you can finally enjoy the leisure time you deserve and focus on the things that really matter. Let E-Business Suite work for you and see how everything will become easier and more enjoyable.
We understand how complex it can be to manage relationships with third parties, especially when it comes to communications, purchase information, sales, bookings, and revenue. But with E-Business Suite, everything becomes easier. The software allows you to monitor the progress of ongoing business in real-time, providing you with precise and effective analysis of your company.
Additionally, for those involved in marketing, E-Business Suite provides a clear view of every opportunity, allowing for targeted and aggressive communication strategies to be designed.
Thanks to E-Business Suite, productivity increases, collaboration between people and teams improves, the most tedious tasks are automated, and incoming tourism activities are optimized. Furthermore, customer service improves with electronic invoicing and the use of new sales channels, such as the metaverse.
Trust E-Business Suite and see how managing your business becomes simpler, more efficient, and rewarding.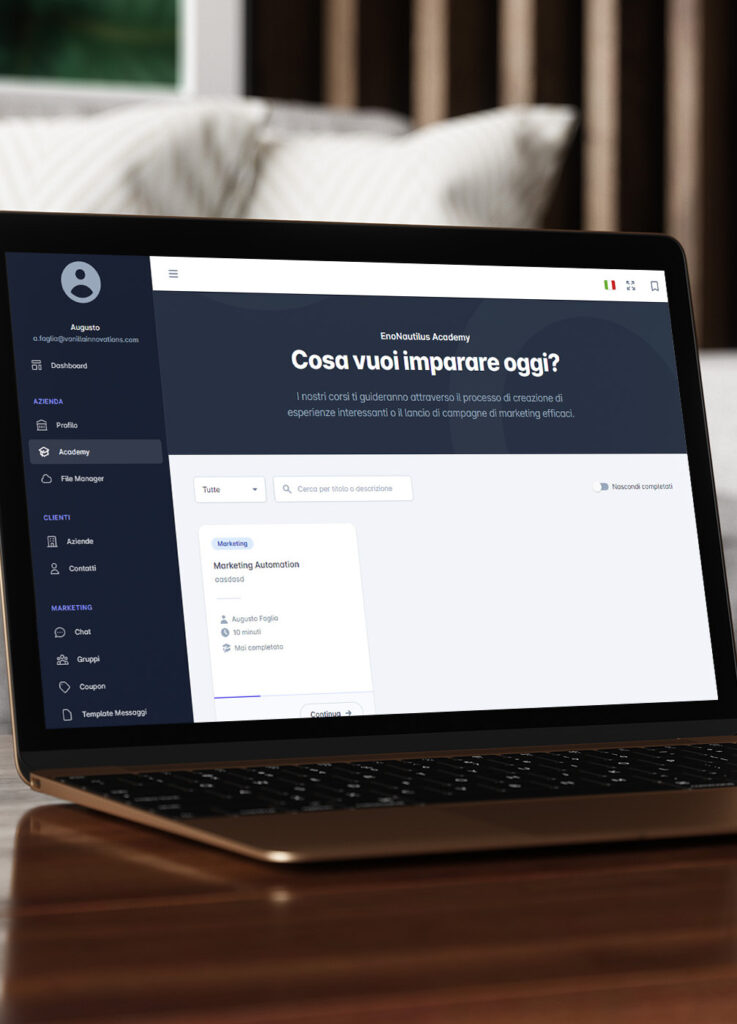 Multi User
E-Business Suite allows multiple users to operate simultaneously.
Bilingual
The entire CRM is available in both Italian and English to facilitate use by a wider user base.
Multi Dashboard
A comprehensive overview of sales, bookings, regional trends, team performance, and much more.
Product Management
Fully customizable to meet the needs of any type of business.
Company and Contact
Goodbye old address book and welcome to a new tool that records and organizes all interactions with companies and contacts according to logic.
Calendar
The calendar widget couldn't be missing, where you can schedule personal and team events. It's a comprehensive tool that simplifies life.
Direct Email Marketing
Like any good CRM, E-Business Suite contains a substantial section dedicated to marketing and communication, starting from the creation, management, and reporting of email campaigns.
Marketing Automation
A very important section that allows for the automation of simple marketing operations (via WhatsApp, SMS, Telegram, and email) that involve sending a message of greetings, thanks for a visit, or for the occurrence of a predefined event.
SMS Telegram e WhatsApp Marketing
Tools such as Telegram, WhatsApp, and SMS represent the forefront of direct communication; a new approach to communicate alerts, information about an event, invitations, promotions, and more. Just set up the message and click.
Quotes
We couldn't forget about the B2B market, so here's a tool borrowed from management software: a complete quotation system that goes from creating the quote to electronic invoicing.
Electronic Invoice
The final step of the sale: electronic invoicing. A tool that manages the creation and shipment of the courtesy copy of the invoice. Just a few clicks and lots of satisfaction and time saved.
Cash register
A tool capable of replacing or supporting a physical cash register by issuing electronic receipts directly.
Facebook Chat
Integrate the Facebook pages you want to manage with just one click and chat with your customers directly from the Suite. It's easy, it's fast, and it's perfect as it is.
Task
A simple to-do list wasn't enough for us, so we implemented a scrum board to provide a truly comprehensive tool for managing your own work and that of your team.
Widget
Widgets are configurable modules ready to be inserted into any website, allowing for tasks such as newsletter sign-ups, lead acquisition, and publishing of products and travel experiences on your own website.
A.I.
Thanks to the integration of artificial intelligence, the system can now optimize texts and translate them into English (and soon other languages), generate hashtags, and create an image that is consistent with the written text in order to have all the elements needed to publish a social post or article that can attract the highest possible number of people.
Metaverse Integration
Our Suite is the only CRM on the market that interacts with Unity-Based metaverses to directly publish products and services within them, allowing for both product purchases and service bookings without ever leaving the virtual environment. In the opposite direction, from the metaverse to the Suite, there are dozens of useful KPIs to evaluate how effectively a company is operating in this new world.
Outlook Integration
Thanks to a small plugin for Microsoft Outlook, the Suite is able to intercept all incoming and outgoing emails and organize them within the suite, allowing for constant monitoring of the status of communications with a client.
A DIFFERENT WAY TO EXPERIENCE A CRM
E-Business Suite has been designed with the goal of making the use of CRM software easy and comfortable for everyone. No more anonymous, complicated, and unattractive programs: the E-Business Suite interface has been developed to adapt perfectly to your needs and personal preferences, without forcing you to change your habits.
You can customize the interface by choosing from a wide range of styles, colors, and backgrounds, and create your personalized work environment. Whether you prefer a left, top, compact, or centered menu, a classic or modern style, purple, blue, pink, amber, or purple color, with light or dark background, you will find everything you need to have a completely customized CRM that suits your needs.
We believe that a personalized work environment can improve productivity and make software usage more enjoyable. With E-Business Suite, you can finally have a CRM that reflects your personality and helps you achieve your goals.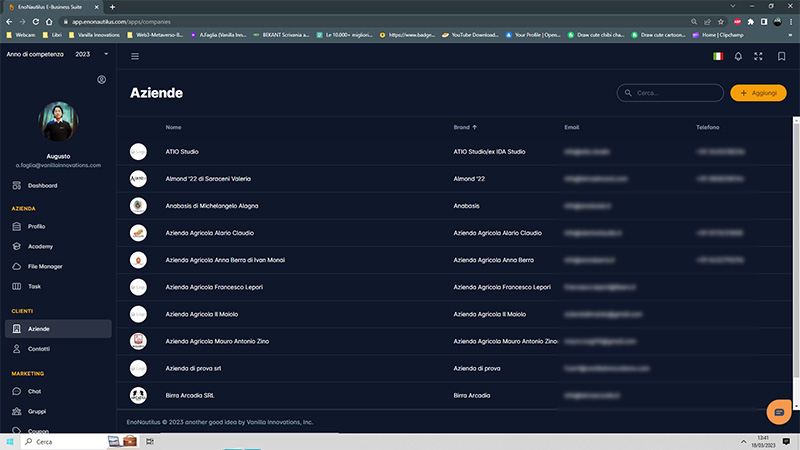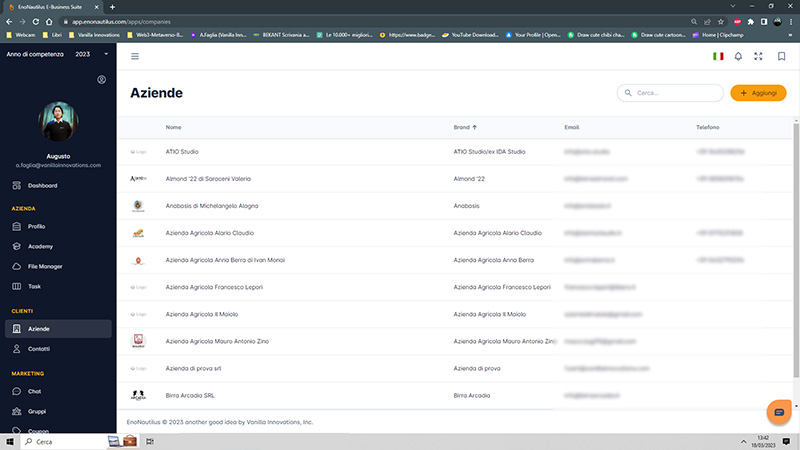 5.000 Monthly Email Credit

15.000 Monthly Email Credit

50.000 Monthly Email Credit